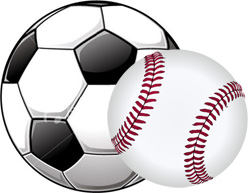 *UPDATED*  April 6, 2015, 8:30pm
Check out our Spring Sports Page and our Youth Baseball page to find out information about our spring programs and to register.  Please register by April 25th to guarantee your spot!
** We are only offering soccer as part of our Spring Sports program (8 & under), but if you are older and interested in soccer – the Spring sports program may be able to accommodate you.
** SHOUT OUT FOR COACHES!!**  Young or old, experienced or trainable!  There is nothing more rewarding than helping young people in the community.  Get to know your community and add volunteering to your resume!  Email Gabe  at richmond.6@hotmail.com if you would like to help out.
Cost, times and dates can be found on  Spring Sports and Youth baseball pages.